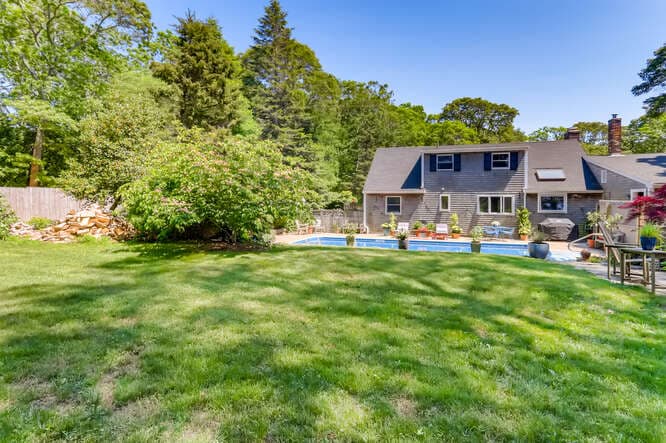 Closed
Single Family Residence in Lambert's Cove, West Tisbury
4 bedrooms
·
2 bathrooms
·
2436 SqFt
·
3.28 acres
·
MLS #38232
Your chance to own a residential property and robust existing business in West Tisbury. Located just outside the business district, this established garden center with roots in the community and long-standing relationships with landscaping and private clientele is ready for new owners to take the helm. You can create your own home business here as well if a garden center isn't your thing! The house has had a strong rental appeal and can be used in a variety of ways to support a business whether it is employee housing or as your own private residence and abandon the idea of a business all together. As a private home in West Tisbury the value is clearly here. Four bedrooms, two full baths, a pool, hot tub, updated kitchen and baths and large garage make this a sound summer vacation property and rental. On over 3 acres, a new owner can build a 1000 square foot guest house as well. Currently operated as Heather Gardens Nursery and Garden Center, there are multiple greenhouses, a retail shop, large garage with storage and plenty of parking. A wonderful opportunity for someone to carry on this family run business and work for themselves or can be easily envisioned as a year-round residence which could support a small farm and barn in West Tisbury.
Property highlights
Washer
Unfurnished
Garden
Patio
Private Pool
Hot Tub
Public Beach
Septic Tank
Cable
Well Water
Property Details
Association Fee Includes:

Foundation Types:

Basement

Interior Features:

AC,Ins,Media,OSh,WdStoveFloor 1: Media room, office, kitchen, living room with fireplace, dining room, two bedrooms and one full bath.Floor 2: Two bedrooms and one full bath.

Lot Features:

Grassy and landscaped

Assessed Building Value:

449800.00

Assessed Land Value:

931000.00
Tax Information
This property was most recently assessed in 2023. It has been assessed at a value of $1,380,800. The annual tax responsibility for this property is $6,200.
Contact an Agent
Phone number
Property Location
©2022 LINK, All Rights Reserved. Not responsible for misinformation or typographical errors. Prices are subject to change without notice. Listed by Tea Lane Associates.