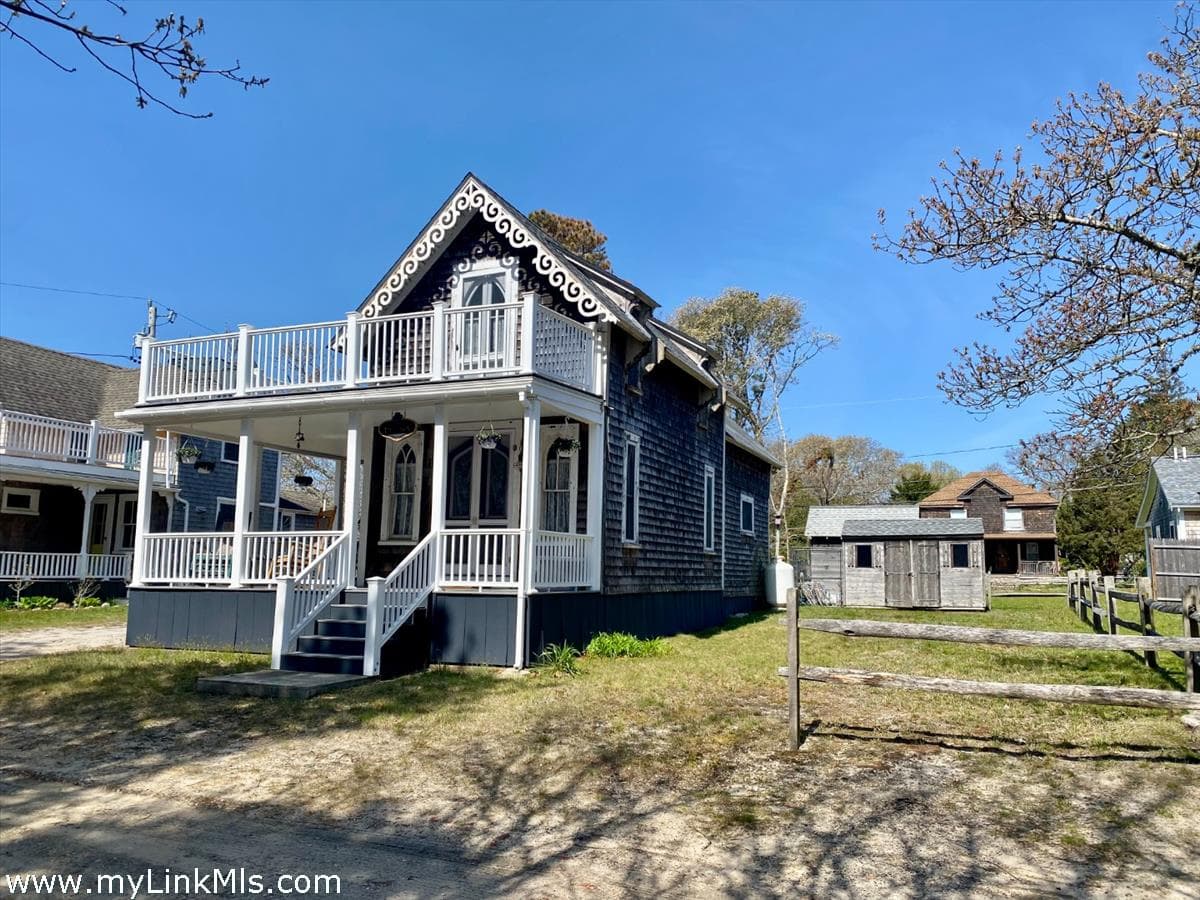 Closed
Single Family Residence in Downtown, Oak Bluffs
2 bedrooms
·
1 bathroom
·
1033 SqFt
·
0.08 acres
·
MLS #40675
Built in 1862, this original MVCMA cottage was relocated from the Vineyard Highlands area to its current site in 1907. Affectionately referred to as "Talawa", a Jamaican phrase meaning "small but stalwart", this cottage is full of history, charm, and original architecture. Set in a very quiet neighborhood, the location is ideal - a short stroll to the library, harbor, shops and restaurants. The interior features bold pops of color, painted pine floors, a modest kitchen, full bath and two bedrooms on the second floor. Enjoy the two wrap around porches on the first and second floors - the perfect spot for al fresco dining. An Oak Bluffs Historical Survey was conducted on the structure in 1978 in which typical Campground cottage features were identified such as gothic doors, windows made with Sandwich, MA glass, gingerbread bargeboards, and front and side gables. Updates along the way include a 5-year-old roof, new composite porches, railings and decking 3 years ago, and a total re-wire of the cottage to code. Additional composite decking, railings, balusters and trim included for windows and future building plans. Expansion possibilities with a variance. It is the buyer's responsibility to upgrade the current cesspool to a Title V system.
Property highlights
Partially
Porch
Cesspool
Cable
Town Water
Property Details
Association Fee Includes:

Interior Features:

OShFloor 1: Typical cottage layout with charming front living space, dining area, kitchen and full bathFloor 2: Originally 4 small bedrooms, now designed as 2 with a sitting room in between, plus a wrap-around sundeck

Link MLS Comments:

Take Pacific Avenue, right onto Simpson Avenue and quick right onto Brunswick Avenue.

Parking Features:

Driveway

Assessed Building Value:

314000.00

Assessed Land Value:

437100.00
Tax Information
This property was most recently assessed in 2023. It has been assessed at a value of $751,100. The annual tax responsibility for this property is $4,050.
Contact an Agent
Phone number
Property Location
©2022 LINK, All Rights Reserved. Not responsible for misinformation or typographical errors. Prices are subject to change without notice. Listed by Landvest MV.