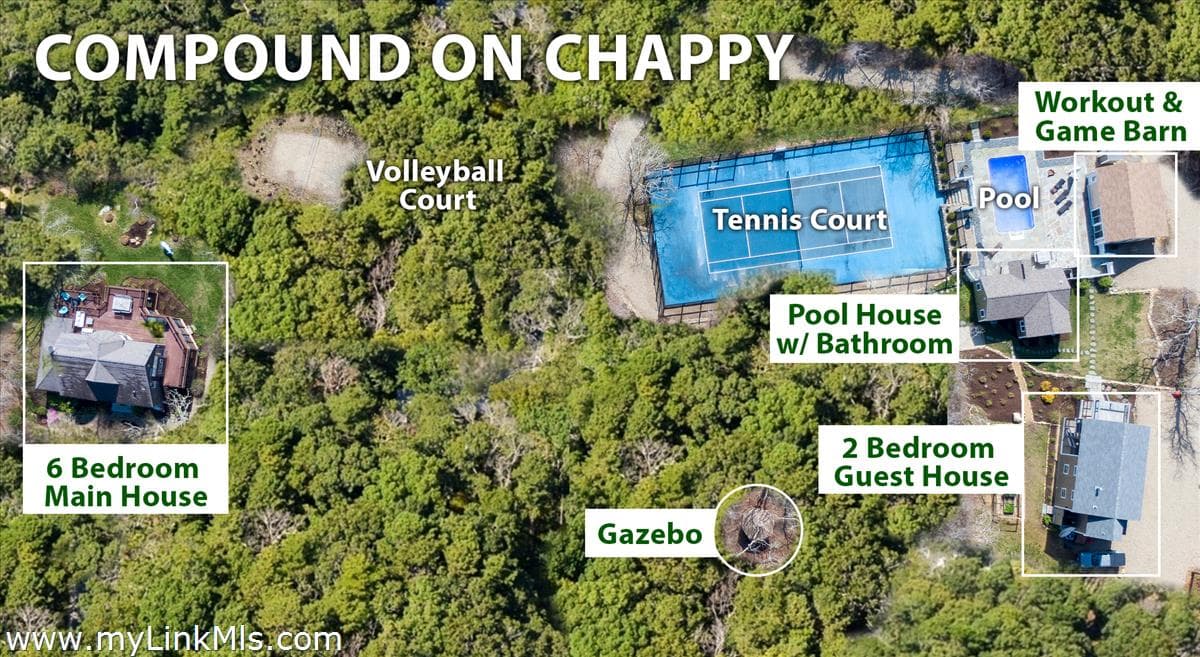 Single Family Residence in Chappy, Edgartown
8 bedrooms
·
7 bathrooms
·
3770 SqFt
·
3 acres
·
MLS #40745
WELCOME to this turn-key CHAPPY COMPOUND! This property offers it ALL, with its Six (6) Bedroom, Five (5) bath Primary Home, Two (2) bedroom, Two (2) bath GUEST HOUSE, expansive POOL HOUSE with a bath, kitchenette, large lounge area topped with a cathedral ceiling, a WORKOUT & GAME BARN, a POOL, a VOLLEY BALL COURT and a TENNIS COURT with a BASKETBALL COURT, all set upon three acres of private, expansive land with distant WATER VIEWS! The estate is spectacularly located on Sampson Hill, being the highest elevation on Chappaquiddick. The location is convenient to the Chappy ferry, the Chappy Community Center, Slip Away Farm, the hiking trails on Land Bank properties and the beaches. A true gem of a location! This Chappy Compound has been meticulously grown and maintained over the years through architectural design, professional decorating and professional landscaping. The Workout & Game Barn was recently constructed in 2022. It has a light airy feeling with its cathedral ceiling, light colored wood and abundance of natural light streaming into its interior space. An interior barn door separates the space into two work out areas. The architecturally designed Guest House was constructed in 2018 with year round living as an option. It was designed with an open floor plan and an abundance of outdoor living spaces to make this Guest House live large. The fun Pool House sports a wooden beamed cathedral ceiling with a large open lounge area, kitchenette and bath, overlooking the Pool and Workout & Game Barn. The interplay between the Workout & Game Barn, Pool House, Pool and abutting Tennis Court makes this Chappy Compound fun and playful!
Property highlights
Stove
Washer
Partially
Water Views
Deck
Garden
Patio
Porch
Screen Porch
Private Pool
Property Details
Association Fee Includes:

Basement:

Two (2) bedroomsone (1) bathan open laundry/lounge areaa large linen storage closest and a utility closet

Fireplace Features:

One gas fireplace in Guest House

Flooring:

hardwood and tile

Foundation Types:

full/poured

Interior Features:

Ins,MiniSplit,OShFloor 1: The spacious entry foyer soars to the second floor. This floor has four (4) bedrooms and three (3) baths. Two (2) of the four (4) bedrooms on this floor have private access to the large outdoor screened in room that houses a wet bar, large lounge area, wicker swing and foosball table.Floor 2: The top floor sports a soaring ceiling with large windows and an open floor plan that has the kitchen flowing into the dining and lounge area. This entire floor has access to the oversized outdoor upper deck with water views! It is a great place to gather.

Link MLS Comments:

Take Chappaquiddick Road to West Cape Poge Avenue, then take a left onto Chappaquiddick Avenue. The Primary Home is at the top of the hill. Closing date November 1st, 2023 or thereafter.

Lot Features:

Deed Restriction: Dukes County Registry of Deeds, Book 71, page 227, doc. 13180. Dirt Road easement.Spacious landscaped yard

Parking Features:

plenty of off street parking

Assessed Building Value:

1575300.00

Assessed Land Value:

440282.00
Tax Information
This property was most recently assessed in 2022. It has been assessed at a value of $2,015,600. The annual tax responsibility for this property is $6,200.
Contact an Agent
Phone number
Property Location
©2022 LINK, All Rights Reserved. Not responsible for misinformation or typographical errors. Prices are subject to change without notice. Listed by Vineyard Village Realty.