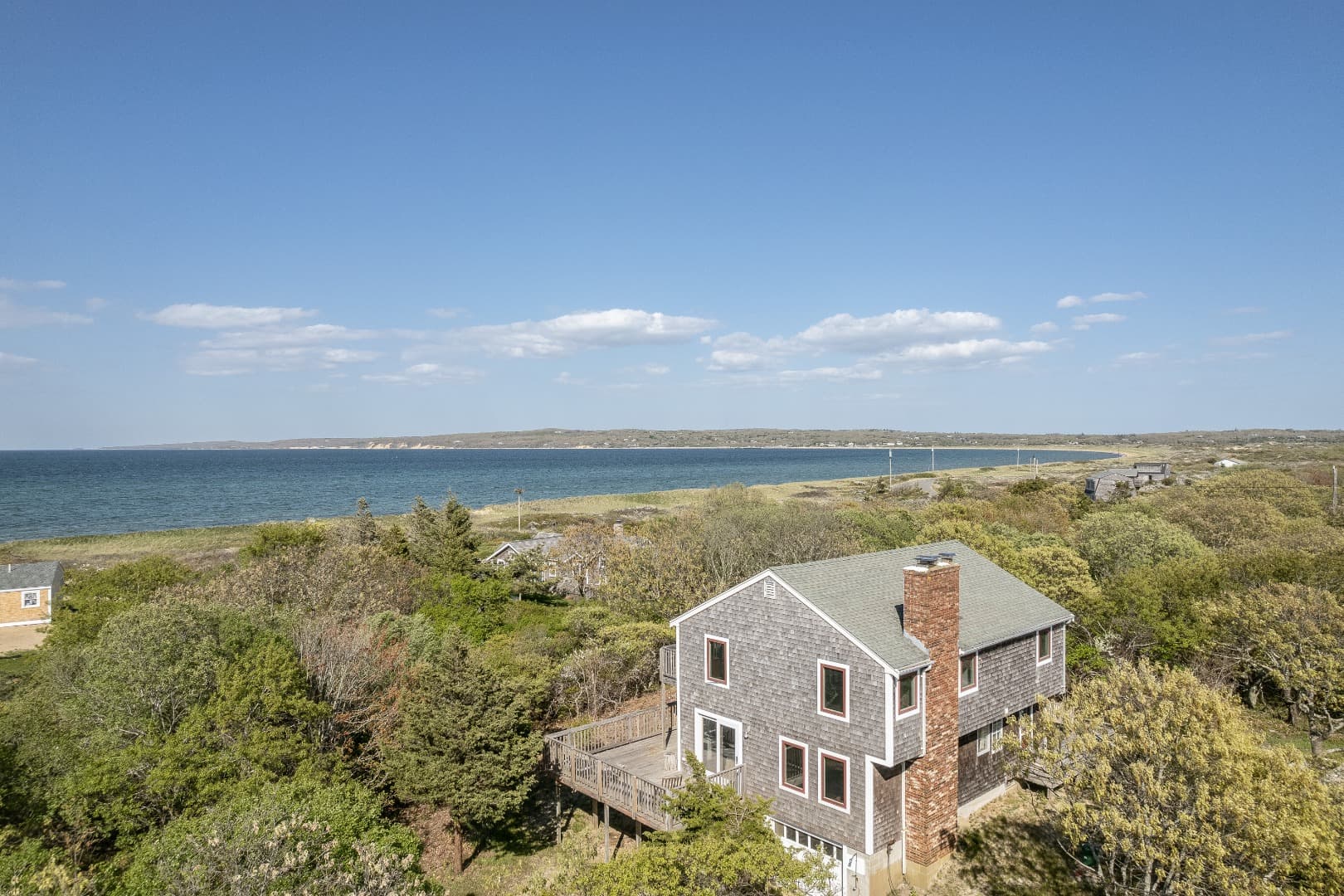 Single Family Residence in North, Aquinnah
4 bedrooms
·
2 bathrooms
·
1600 SqFt
·
0.619 acres
·
MLS #40669
Waterview beach house in Aquinnah! Just a short walking path to the calm and sandy waters of the North Shore beach. Traditional layout with the kitchen, living, dining room and full bath on the first floor. The living room comes with water views and a cozy fireplace, and multiple sliding doors that walk out to the wrap around porch. Upstairs the views are increasingly beautiful! Four bedrooms share a full bath, one of the bedrooms has a fireplace while two have sliding doors that walk out to water view balconies. The full walkout basement/garage offers plenty of room for a vehicle, extra storage or set up a ping pong table. This bright and airy home is the perfect Aquinnah retreat.
Property highlights
Stove
Washer
Unfurnished
Deeded Beach
Deck
Water Views
Sand
Septic Tank
Cable
Well Water
Property Details
Association Fee Includes:

Basement:

Full basement/drive-in garage. Washer/Dryer.

Foundation Types:

Concrete Block Garage/Walk-out

Interior Features:

OShFloor 1: Kitchen, Living Room (with fireplace), Dining Room, Full bath. Wrap around deck. FHW propane radiant floor heating.Floor 2: 4 bedrooms, full bath, one fireplace and two balconies. Electric baseboard heating.

Link MLS Comments:

From Lobsterville Road take a left onto Lighthouse Road and an immediate right onto the shell driveway and bear left.

Lot Features:

Walking path to the beach. Driveway.Beachy, casual, sandy.

Parking Features:

Parking for 4+ cars

Assessed Building Value:

403400.00

Assessed Land Value:

1314700.00
Price History
November 17, 2023
$1,950,000
Tax Information
This property was most recently assessed in 2023. It has been assessed at a value of $1,718,100. The annual tax responsibility for this property is $10,500.
Contact an Agent
Phone number
Property Location
©2022 LINK, All Rights Reserved. Not responsible for misinformation or typographical errors. Prices are subject to change without notice. Listed by Tea Lane Associates.