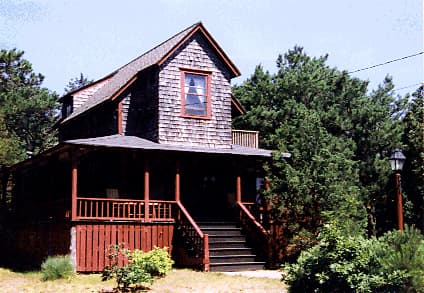 Pending
Single Family Residence in East Chop, Oak Bluffs
4 bedrooms
·
1 bathroom
·
1400 SqFt
·
0.34 acres
·
MLS #40597
Vintage East Chop Victorian Cottage with Water Views. 4 bedroom 2 bath Victorian home has been a special home to generations who've enjoyed this perfect location between the beach and Oak Bluffs center. The lot extends to East Chop Drive with a sweet walking path, extensive yard and oversize garage. Conservation land abuts the backyard. There are 3 upstairs bedrooms and 1 down, views from many rooms, decks and porches, and room to expand with proper permitting. This house needs considerable updating and is being sold AS IS.
Property highlights
Unfurnished
Water Views
Deck
Screen Porch
Porch
Public Beach
Tennis Court
Sand
Septic Tank
Cable
Property Details
Association Fee Includes:

Basement:

No Basementno foundationthis home is elevated above ground level.

Interior Features:

Floor 1: From the front stairs/deck, entry into main door leads to the Living Room/Parlor. On the right is a 3/4 Bath and through the bath is access to first floor bedroom. Moving forward into the house takes you to the formal dining room with staircase up to bedrooms. Keep straight to kitchen, back door and 2nd bath.Floor 2: Sun filled 2nd floor first bedroom with has water views, 2nd floor currently set up with 3 Bedrooms with 2 twin beds each. Walk through to 2nd bedroom 3rd bedroom.

Link MLS Comments:

East Chop Drive to Arlington Avenue, 2nd left (Arlington has 2 access points from EC Drive) 1st house on the right.

Assessed Building Value:

200600.00

Assessed Land Value:

613700.00
Tax Information
This property was most recently assessed in 2023. It has been assessed at a value of $814,300. The annual tax responsibility for this property is $5,089.
Contact an Agent
Phone number
Property Location
©2022 LINK, All Rights Reserved. Not responsible for misinformation or typographical errors. Prices are subject to change without notice. Listed by Breakwater MV.