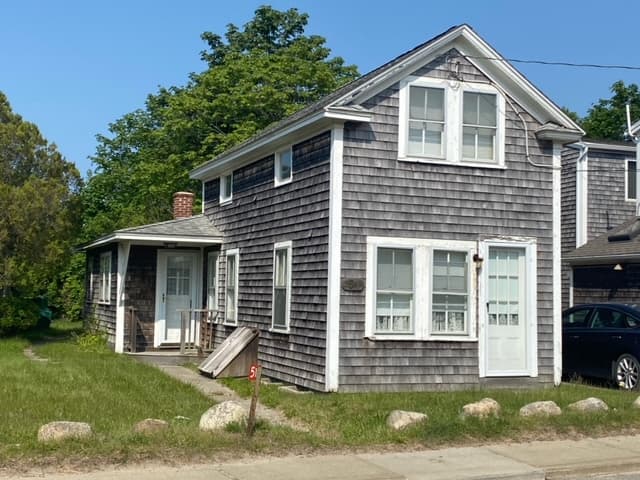 Pending
Single Family Residence in Lagoon, Vineyard Haven
2 bedrooms
·
1 bathroom
·
800 SqFt
·
0.0826 acres
·
MLS #40831
Fantastic in-town opportunity. Backed up the Veterans park in the waterfront commercial district, this parcel has a 2 bedroom home, but can be used for businesses and a combination of both. The home has 2 modest bedrooms and a full bath with a kitchen and living room and a pantry. Close to town and the waterfront it would make a great house for employee house or a 2nd home for someone who likes being in-town. Property is being sold AS-IS at this tremendous value point.
Property highlights
Unfurnished
Public Beach
Town View
Town Sewer
Cable
Town Water
Property Details
Association Fee Includes:

Interior Features:

Floor 1: kitchen, pantry, living area and bathroomFloor 2: 2 bedrooms.

Link MLS Comments:

5 corners VH onto Lagoon Pond Rd. House is on Right just past Thrift shop. No showings Sunday. 24 hours notice required- tenants in place.

Parking Features:

2 cars off street

Assessed Building Value:

0.00
Price History
September 24, 2023
$625,000
Tax Information
This property was most recently assessed in 2023.
Contact an Agent
Phone number
Property Location
©2022 LINK, All Rights Reserved. Not responsible for misinformation or typographical errors. Prices are subject to change without notice. Listed by Feiner Real Estate.