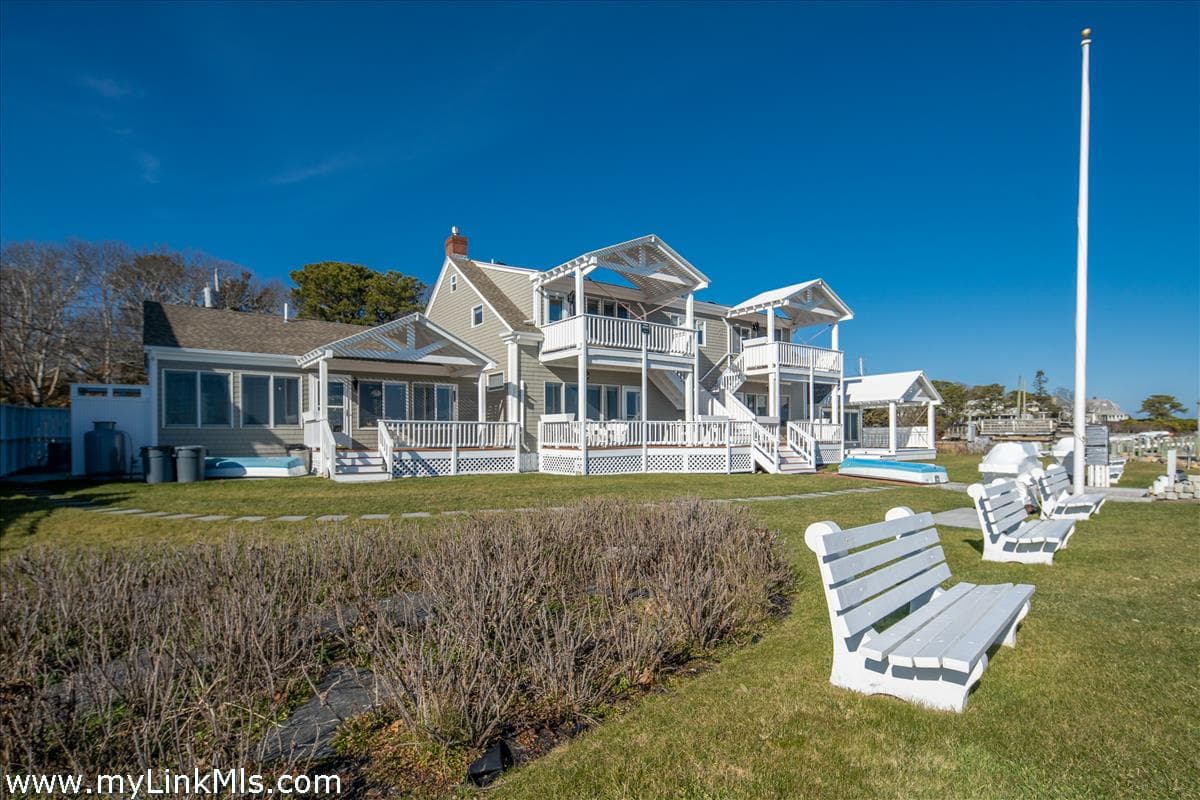 Single Family Residence in East Chop, Oak Bluffs
7 bedrooms
·
6 bathrooms
·
3888 SqFt
·
0.29 acres
·
MLS #40789
East Chop waterfront – Once in a lifetime, a property of this caliber becomes available, with an on-the-water East Chop location, a wide range of amenities, and multi-functional use! Uses include -- 1.) Currently operated as East Chop Harborfront Apartments, a pre-existing non-conforming use for the past 70+ years, 2.) Use it as a residential home or family compound, or live in a portion and rent a portion, 3.) Potential to convert to condominiums, paperwork presently in process but would be a buyers choice. Located directly on the harbor, this property features outstanding water views of the harbor and sound beyond and is just steps from the tennis club, beaches, ferries to the mainland and downtown. In pristine condition, this 6-unit property includes a 106 ft dock with water/electric for 8 slips and a 40' T at the end for a 9th boat. Parking for 6-7 vehicles at street in front. Built in 1952, the property has had extensive top to bottom renovations including new wiring, plumbing, insulation, heating/AC, and dredged dockage. Features include high end finishing in all units, as well as beautifully landscaped grounds. The first floor consists of three 1-bedroom units, each with new kitchen, living and dining areas and private covered front porches over-looking the water. The second floor consists of two 2-bedroom units each with kitchen, living and dining areas as well as private covered front porches. A separate detached year-round cottage apt unit with Murphy bed, kitchen, full bathroom and washer/dryer can serve as a rental unit or as live in office for a property manager/caretaker and, has an additional loft area with double bed for kids. Each apartment has electric baseboard heat plus mini-split heat/AC. Generator. Private outdoor shower with dressing area. On town sewer.
Property highlights
Unfurnished
Water Views
Deck
Tennis Court
Public Beach
Garden
Porch
Harbor View
Town Sewer
Cable
Property Details
Association Fee Includes:

Basement:

Main house on foam insulated crawlspace with two heavy duty dehumidifiers + heater

Flooring:

Mix of wood and tile

Foundation Types:

Crawlspace under main house; concrete slab under detached apt

Interior Features:

Ins,Irr,MiniSplit,OShFloor 1: Contains three 1-bedroom units: Unit #1 -- "Oak Bluffs", 1-BR; Unit 2 -- "Cottage City", 1-BR; Unit 5 -- "Captain's Quarters, 1-BR.Floor 2: Contains two 2-bedroom units: Unit #3 "Highlands" 2-BR; Unit #4 -- "Tivoli" 2-BR.Floor 3: None. Attic runs length of main house with large storage area w/electricity.

Link MLS Comments:

From New York Ave, turn on to East Chop Drive, property is 12th house on the harbor after Our Market and next to the Beach Club.

Lot Features:

Professionally landscaped and maintained, 260' waterfront/stone seawall

Parking Features:

Parking at street for 6-7 cars

Assessed Building Value:

1561600.00

Assessed Land Value:

2816100.00
Tax Information
This property was most recently assessed in 2023. It has been assessed at a value of $4,377,700. The annual tax responsibility for this property is $23,100.
Contact an Agent
Phone number
Property Location
©2022 LINK, All Rights Reserved. Not responsible for misinformation or typographical errors. Prices are subject to change without notice. Listed by MV Luxury Homes.