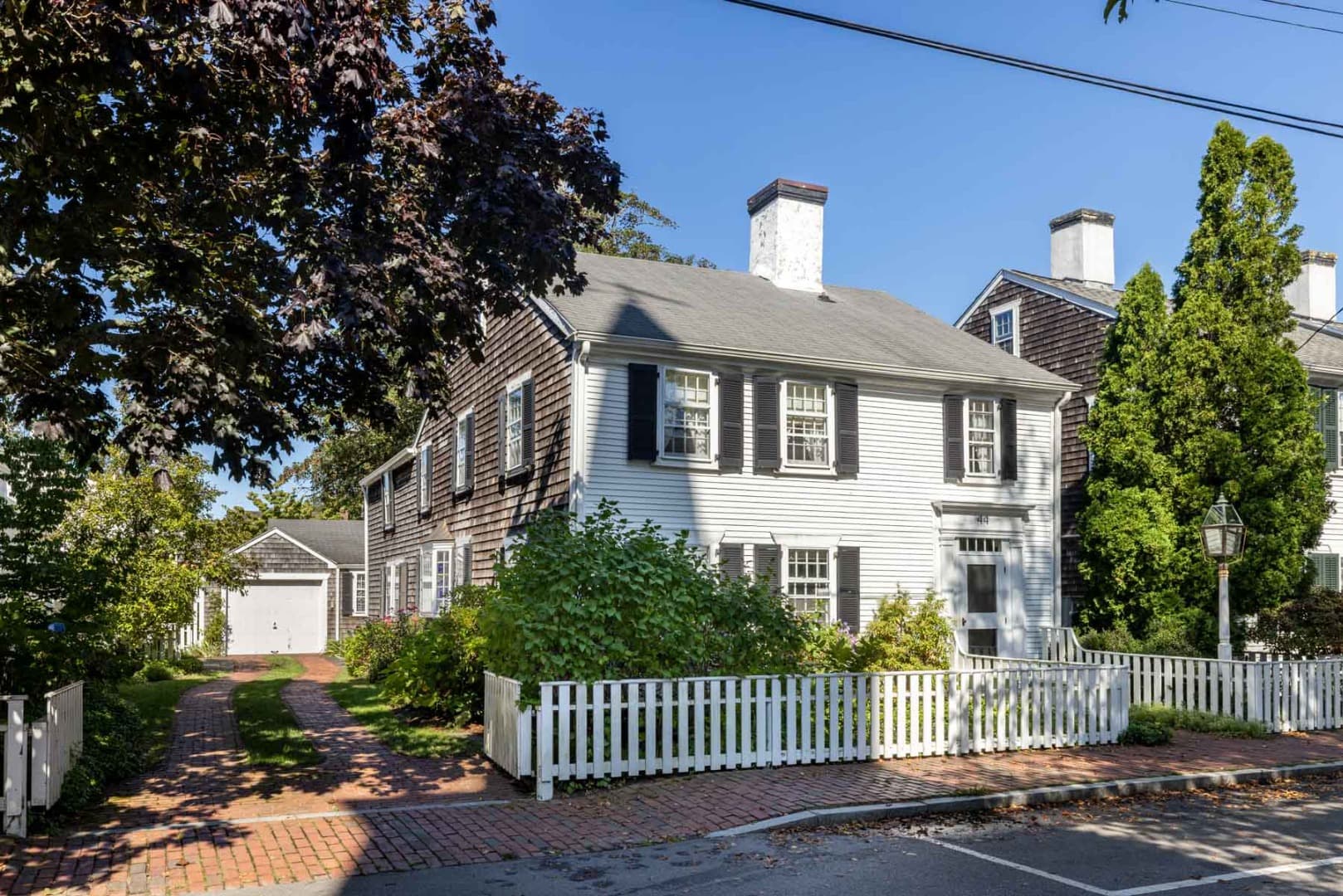 Single Family Residence in Downtown, Edgartown
4 bedrooms
·
3 bathrooms
·
2226 SqFt
·
0.13 acres
·
MLS #41324
Located within the heart of the highly sought-after historic district of Edgartown, this 4-bedroom residence on South Summer Street offers a unique blend of timeless elegance and historical detail. Built in 1780, this home stands as a testament to Edgartown's rich architectural heritage with its classic New England design, complete with a white picket fence. Enter through the welcoming foyer, which leads to a spacious living room with original wide plank hardwood floors and classic moldings. The living room and formal dining room feature fireplaces which create an inviting space for gatherings and entertaining. Primary bedroom suites can be found on both levels of this home. The property includes coveted off-street parking and a 1 car garage. Enjoy the convenience of living in the heart of downtown Edgartown. South Summer Street is a short distance to boutique shops, restaurants, art galleries, and the iconic Edgartown Harbor. This property represents a unique opportunity for those with a vision for restoration.
Property highlights
Unfurnished
Patio
Public Beach
Town View
Town Sewer
Cable
Town Water
Property Details
Association Fee Includes:

Basement:

Partially full basement with interior access and bulkhead access.

Foundation Types:

Partially Full - Interior and Exterior access

Interior Features:

Ins,MiniSplitFloor 1: See floor planFloor 2: See floor plan

Link MLS Comments:

Main Street to South Summer Street. House is on the right.

Lot Features:

Stone patio and garden shed

Parking Features:

Private driveway with 1-car garage

Assessed Building Value:

1419000.00

Assessed Land Value:

1575400.00
Price History
September 22, 2023
$3,575,000
Tax Information
This property was most recently assessed in 2023. It has been assessed at a value of $2,994,400. The annual tax responsibility for this property is $7,550.
Contact an Agent
Phone number
Property Location
©2022 LINK, All Rights Reserved. Not responsible for misinformation or typographical errors. Prices are subject to change without notice. Listed by Wallace & Co. Sotheby's.