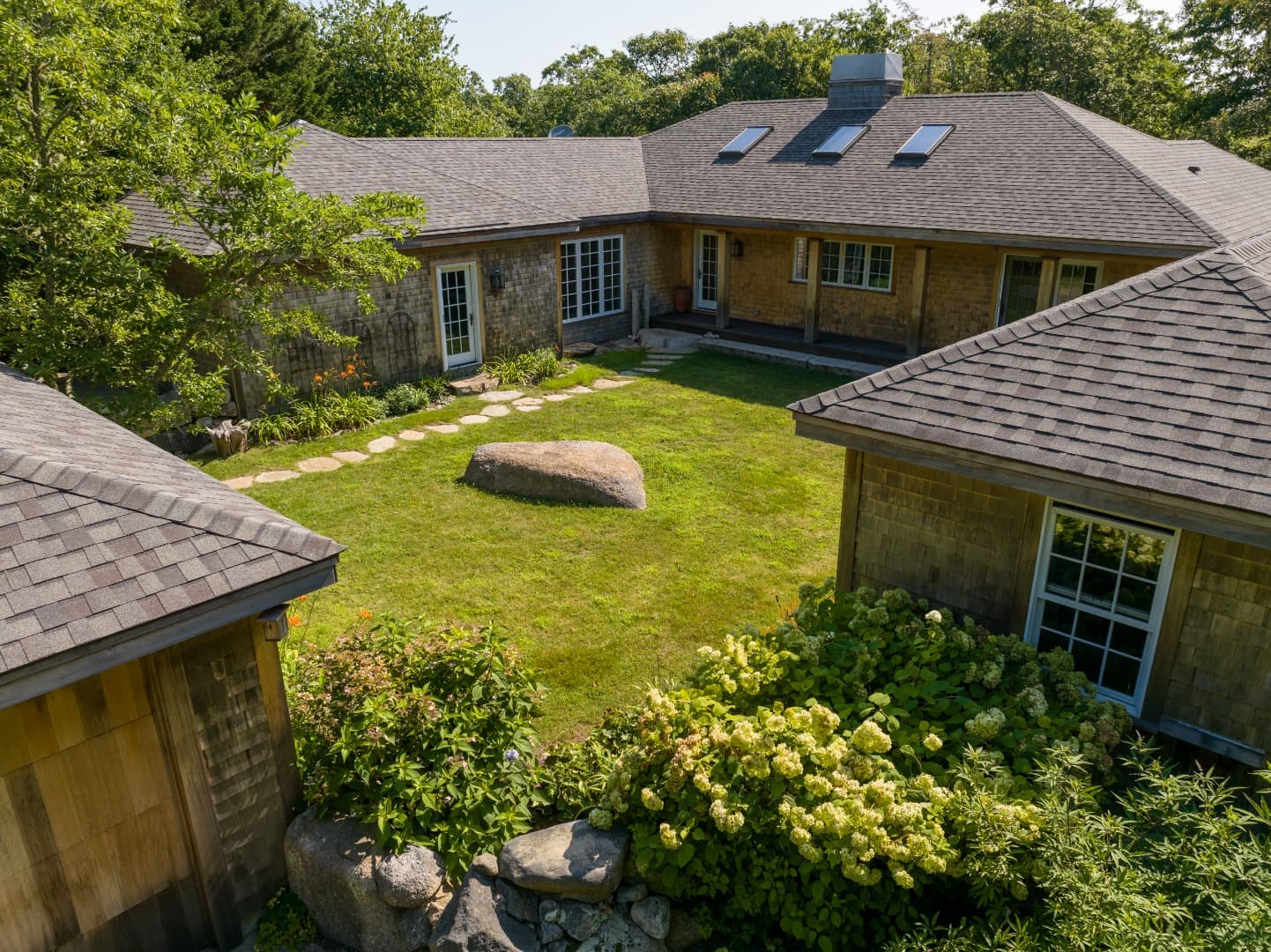 Single Family Residence in North, Chilmark
2 bedrooms
·
3 bathrooms
·
2515 SqFt
·
4.38 acres
·
MLS #40645
Sited on over four acres and nestled in a peaceful setting of ancient stone walls, mature plantings and trees, open meadows and large glacial boulders. The architectural design creates an entry courtyard edged with gardens and a covered porch. Single floor living, cathedral ceilings, plastered walls, and lasting quality construction. The house is designed to feel light and airy taking in the privacy of the land from the open living/dining area that leads out onto an expansive deck and onto rolling lawn and gardens. The finished lower-level walkout basement with bathroom offers up a myriad of possibilities. A separate detached garage provides extra storage along with the accompanying detached workspace and gardening room.
Property highlights
Unfurnished
Deck
Garden
Public Beach
Septic Tank
Satellite
Well Water
Property Details
Association Fee Includes:

Basement:

Finished walk out basementartist studiorec roomutility roomphoto darkroomstorage roombathroom

Flooring:

Oak Wood and Tile

Foundation Types:

Full concretepoured

Interior Features:

A,AC,InsFloor 1: Kitchen, living and dining areas, primary and additional bedroom, 2 bathrooms, office, laundry room and mudroom

Lot Features:

Vehicular easement to abutting propertyPrivacy, old stonewalls, mature plantings, manicured lawn, glacial boulders

Assessed Building Value:

899500.00

Assessed Land Value:

664600.00
Tax Information
This property was most recently assessed in 2023. It has been assessed at a value of $1,564,100. The annual tax responsibility for this property is $4,229.
Contact an Agent
Phone number
Property Location
©2022 LINK, All Rights Reserved. Not responsible for misinformation or typographical errors. Prices are subject to change without notice. Listed by Tea Lane Associates.