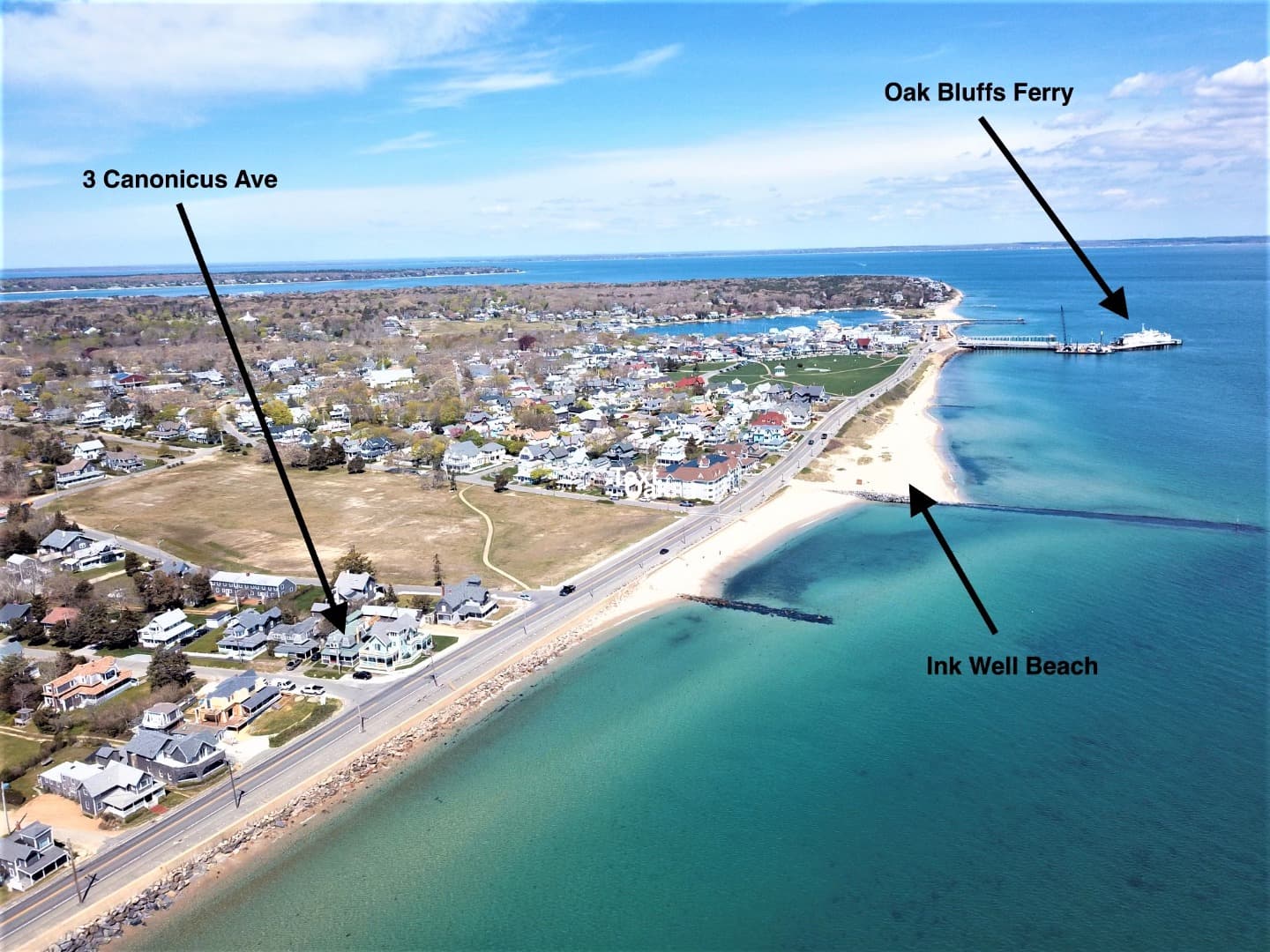 Withdrawn
Single Family Residence in Downtown, Oak Bluffs
4 bedrooms
·
3 bathrooms
·
1642 SqFt
·
0.0899 acres
·
MLS #39932
Oak Bluffs Copeland Beach House just steps to inkwell beach, just a few blocks from downtown shops, restaurants, and entertainment. The house and adjacent garage are insulated for year round living. An inviting wrap around porch affords calming views of the ocean. Beautiful original cherry and oak wood flooring throughout this four bedroom home. The home features a sun filled front room with a gas fireplace, dining room with a monitor heater that opens into a living room. The kitchen leads to a mud room with laundry, bathrooms, and access to the patios and out door shower. Up the front staircase to the primary bedroom which has a balcony to sit back and relax as you take in the views of the ocean. Off the hall are 2 more bedrooms and a half bathroom. The back bedroom with a private staircase is light filled with a full length window looking onto the deck. Between the house and the converted garage is a stone patio for grilling, The cherry on top is on the roof, this spacious deck is solidly sitting on top of the house, one of just a few actual "widows walks" in Oak Bluffs with amazing panoramic views of Nantucket sound. The finished garage provides addition gathering space, used as an office, it has a full bathroom and could serve as an art studio, retreat space, or to park a vehicle! The driveway provides off street parking for 2 cars.
Property highlights
Partially
Water Views
Deck
Porch
Public Beach
Screen Porch
Patio
Sand
Septic Tank
Cable
Property Details
Association Fee Includes:

Basement:

dirt floor with vapor barrier

Interior Features:

Ins,OShFloor 1: living area with gas fireplace, dining room, sitting room, and kitchen, laundry room 1.5 bathroomsFloor 2: 4 bedrooms the primary has a private balcony with breathtaking views of Nantucket Sound. Back bedroom has a private staircase. 1 bathroom.

Link MLS Comments:

From Seaview to 3 Canonicus house is first of the right.

Parking Features:

yes off street

Assessed Building Value:

517900.00

Assessed Land Value:

1321500.00
Tax Information
This property was most recently assessed in 2023. It has been assessed at a value of $1,839,400. The annual tax responsibility for this property is $7,500.
Contact an Agent
Phone number
Property Location
©2022 LINK, All Rights Reserved. Not responsible for misinformation or typographical errors. Prices are subject to change without notice. Listed by Anchor Realty of Martha's Vineyard.