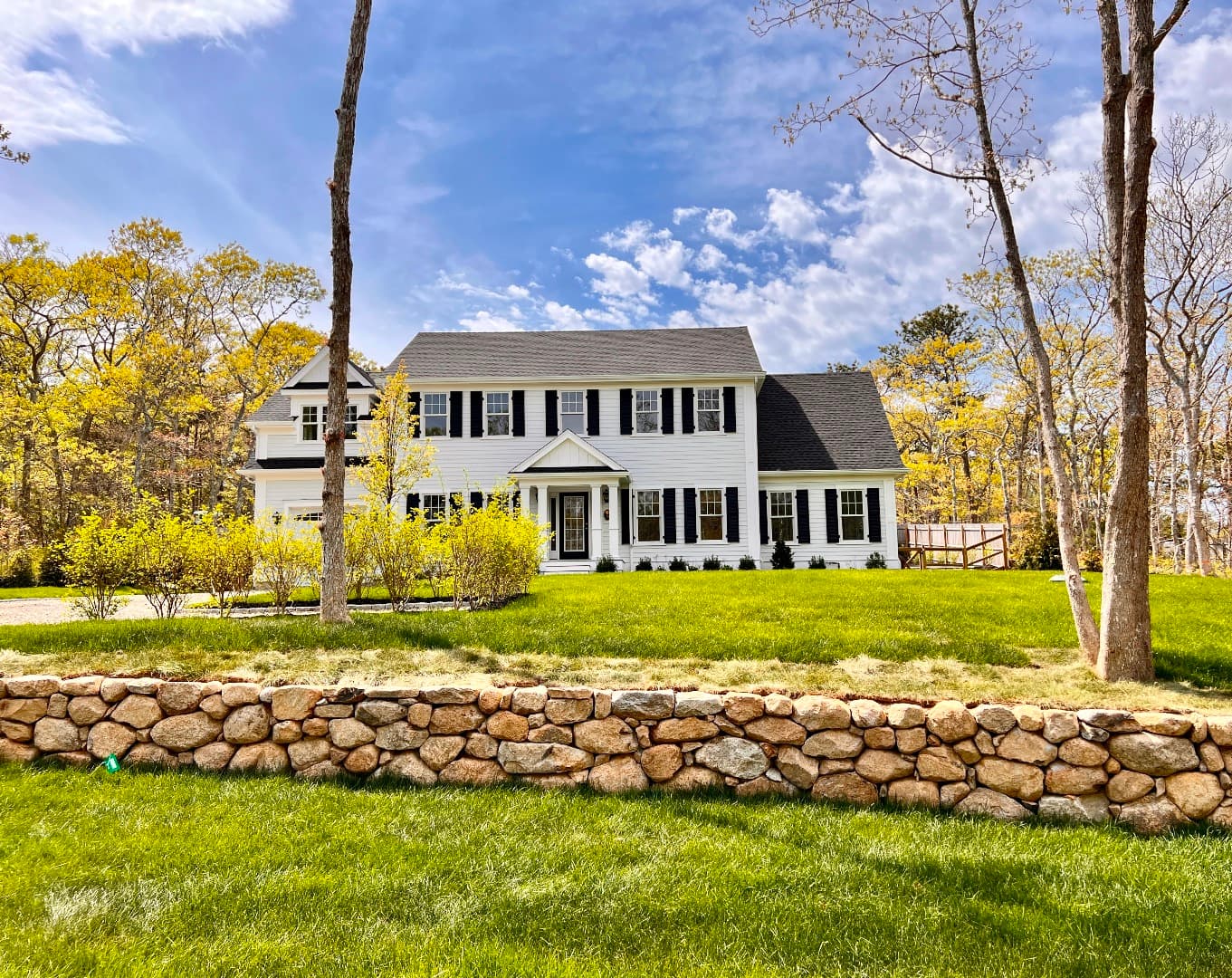 Closed
Single Family Residence in Sengy, Edgartown
5 bedrooms
·
4 bathrooms
·
2786 SqFt
·
0.5017 acres
·
MLS #39603
NEW CONSTRUCTION - EDGARTOWN - JUST COMPLETED and READY FOR SUMMER OCCUPANCY! 5 BEDROOMS, 5 BATHROOMS. 30' x 14' HEATED SALTWATER Swimming POOL. Located on a half acre lot, on a quiet street in Edgartown, within a short distance of Sengekontacket Pond, the boat landing on the Boulevard and only 2 miles to Downtown Edgartown. This expanded Colonial has an open floor plan, yet with clearly defined living spaces. Five (5) bedrooms, one on the Ground Floor w/private bathroom & walk in closet, Five (5) bathrooms - (4 full, 1 half), three of which are Private Suites. Ground floor living level has a wood clad ceilings w/fireplace, custom kitchen cabinetry, oversized upper cabinets, some with glass, under cabinet lighting, large kitchen island, Bosch® stainless steel appliances, marble counter tops, Breakfast Area, Dining Room, Powder Room & Laundry. Oak hardwood floors throughout w/tiled bathrooms. Ground Floor Suite with Direct Exterior Access to Patio and POOL. Second story has Four (4) bedrooms, two (2) are Private Suites, each w/their own bathroom & vaulted ceilings. Two (2) additional guest bedrooms, one with a beamed ceiling. Central Forced Hot Air Heat & Air Conditioning. Full unfinished 1,400sq.ft. basement w/9ft.high ceilings. 30' x 14' Heated SALTWATER SWIMMING POOL surrounded by Bluestone patio, stone clad walls and fenced yard. One car Garage. Professional Landscaping and irrigation. (Days on market include construction period).
Property highlights
Unfurnished
Patio
Private Pool
Public Beach
Cov
Septic Tank
Cable
Town Water
Property Details
Association Fee Includes:

Road Association - Maintenance and snow ploughing.

Basement:

HugeFullUnfinished Basement - Poured Masonry. Interior Access. Access to back yard.

Fireplace Features:

One - Propane

Flooring:

Hardwood Floors throughout

Interior Features:

AC,Ins,Irr,OShFloor 1: Open plan Living Room with Fireplace, Kitchen with large Island, Breakfast area and formal dining area. Half bath with laundry. Ground Floor Bedroom - with Full Bathroom and Walk In Closet.Floor 2: Four Bedrooms including Two more Suites with Private bathrooms. Two Guest Rooms and One shared bathroom.

Link MLS Comments:

Turn onto Holly Bear Lane. House is 8th lot on the right, just after the curve. Septic system is a MicroFast System.

Assessed Building Value:

0.00

Assessed Land Value:

348000.00
Tax Information
This property was most recently assessed in 2023. It has been assessed at a value of $348,000. The annual tax responsibility for this property is $900.
Contact an Agent
Phone number
Property Location
©2022 LINK, All Rights Reserved. Not responsible for misinformation or typographical errors. Prices are subject to change without notice. Listed by Alisan Lohan-Conway Properties.