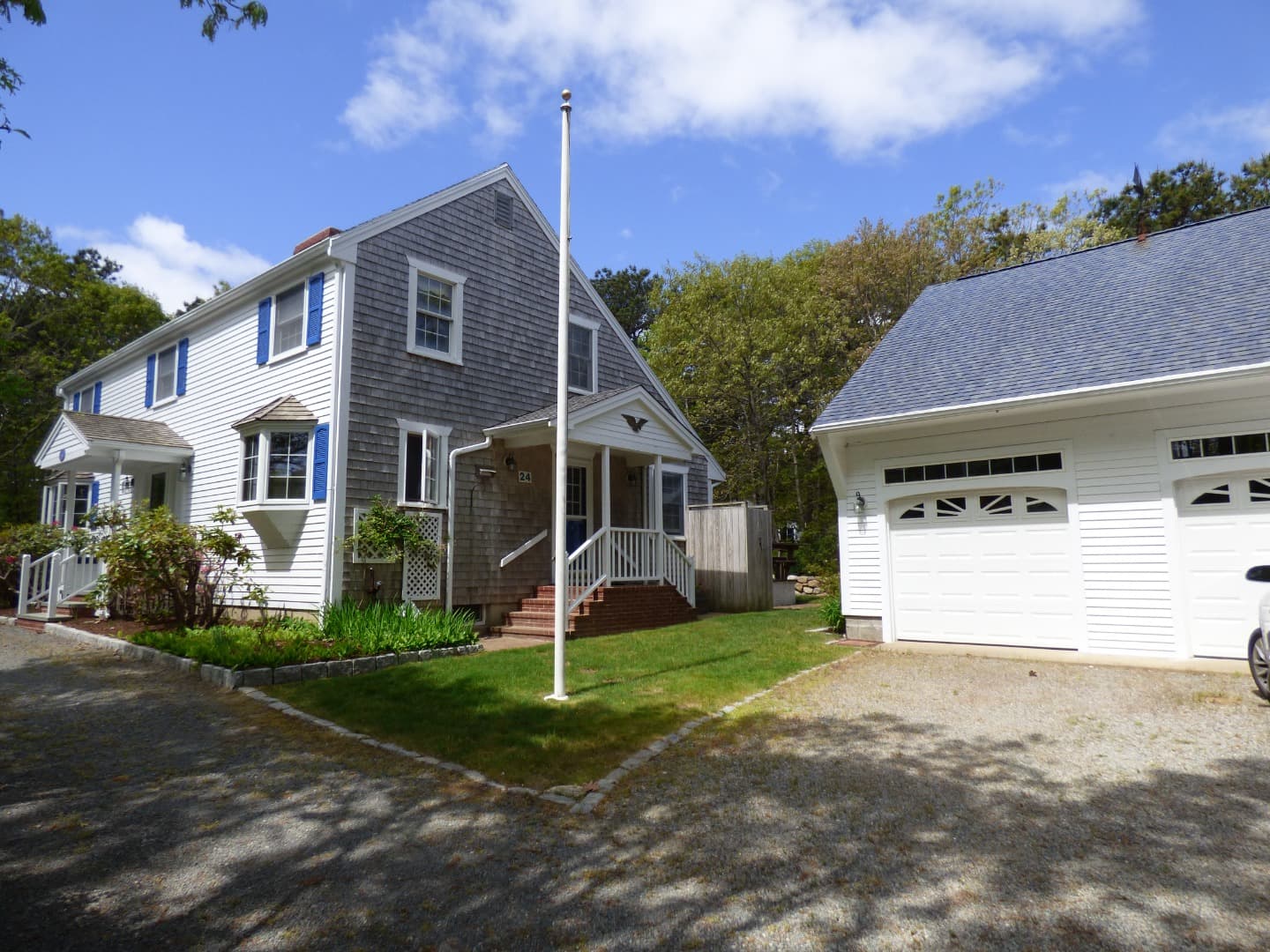 Single Family Residence in Central, Edgartown
4 bedrooms
·
2 bathrooms
·
1960 SqFt
·
0.59 acres
·
MLS #40686
Ideal Edgartown location - quiet neighborhood close to the bike path to downtown and to the State Beach. Tucked in the woods near the Triangle, this center-chimney Colonial has been meticulously maintained by the original owner. Tastefully landscaped yard with mature plantings, flower gardens and lawn. An exceptional property! The house is in move-in condition. Many upgrades to the interior and to the landscaping were completed in 2016 and 2017 . 4 bedrooms (one on the first floor), 2 baths. FIRST FLOOR: Large country kitchen, dining area, living room with wood-burning fireplace, cathedral ceiling, French doors to 12' x 28' rear deck overlooking beautifully landscaped grounds, hall shower bath with bench, spacious master bedroom with bay window. SECOND FLOOR: Loft with skylight leads to 3 bedrooms and hall bath with tub/shower. Since 2016, improvements include new heating system, renovated first floor bath, irrigation system, bluestone driveway, cobblestone retaining wall surrounding the sides and rear of the property and cobblestone edging around gardens and driveway. A flagstone path leads to the detached two-car garage with loft. TITLE V passed for 4 bedrooms.... SELLER is in the process of bringing sewer line just to the property along Mariners Way... allowing for 7 bedrooms. BUYER is responsible for tie in from property line to the house and for the grinder pump if buyer chooses to connect in the future.
Property highlights
Partially
Garden
Deck
Porch
Public Beach
Septic Tank
Cable
Town Water
Property Details
Association Fee Includes:

Basement:

FULL poured foundationCENTRAL VACUUM. ***TOWN WATER SERVICES THE HOUSE - WELL WATER SERVICES THE IRRIGATION SYSTEM.

Foundation Types:

poured cement

Interior Features:

Ins,Irr,OShFloor 1: Expansive kitchen with tile floor and updated appliances including washer and dryer. Dining area with bay window overlooks beautifully landscaped rear yard, living room with cathedral ceiling, fan, skylight, French doors to 12' x 28' deck, wood-burning fireplace. Master bedroom with bay window. Hall shower bath (updated in 2017). Wood floors throughout with the exception of hall bath which has tile floor.Floor 2: A cozy loft with skylight leads to 3 bedrooms and a hall bath with tub and shower. Second level has wood floors throughout with the exception of tile flooring in the bath.Floor 3: none

Link MLS Comments:

Off Edgartown-Vineyard Haven Road. Turn onto Mariners Way (between Granite Store and Mariners Landing). Continue on sand road to the first house on the right. Two- story white colonial with detached two-car garage.

Lot Features:

Sewer easement recorded in Dukes County Registry of Deedslawn, mature plantings, cobblestone retaining wall/gardens

Parking Features:

Bluestone driveway (2016). Parking in front of house and garage

Assessed Building Value:

634900.00

Assessed Land Value:

305400.00
Tax Information
This property was most recently assessed in 2023. It has been assessed at a value of $940,300. The annual tax responsibility for this property is $2,433.09.
Contact an Agent
Phone number
Property Location
©2022 LINK, All Rights Reserved. Not responsible for misinformation or typographical errors. Prices are subject to change without notice. Listed by Wiggy's Pond Real Estate.