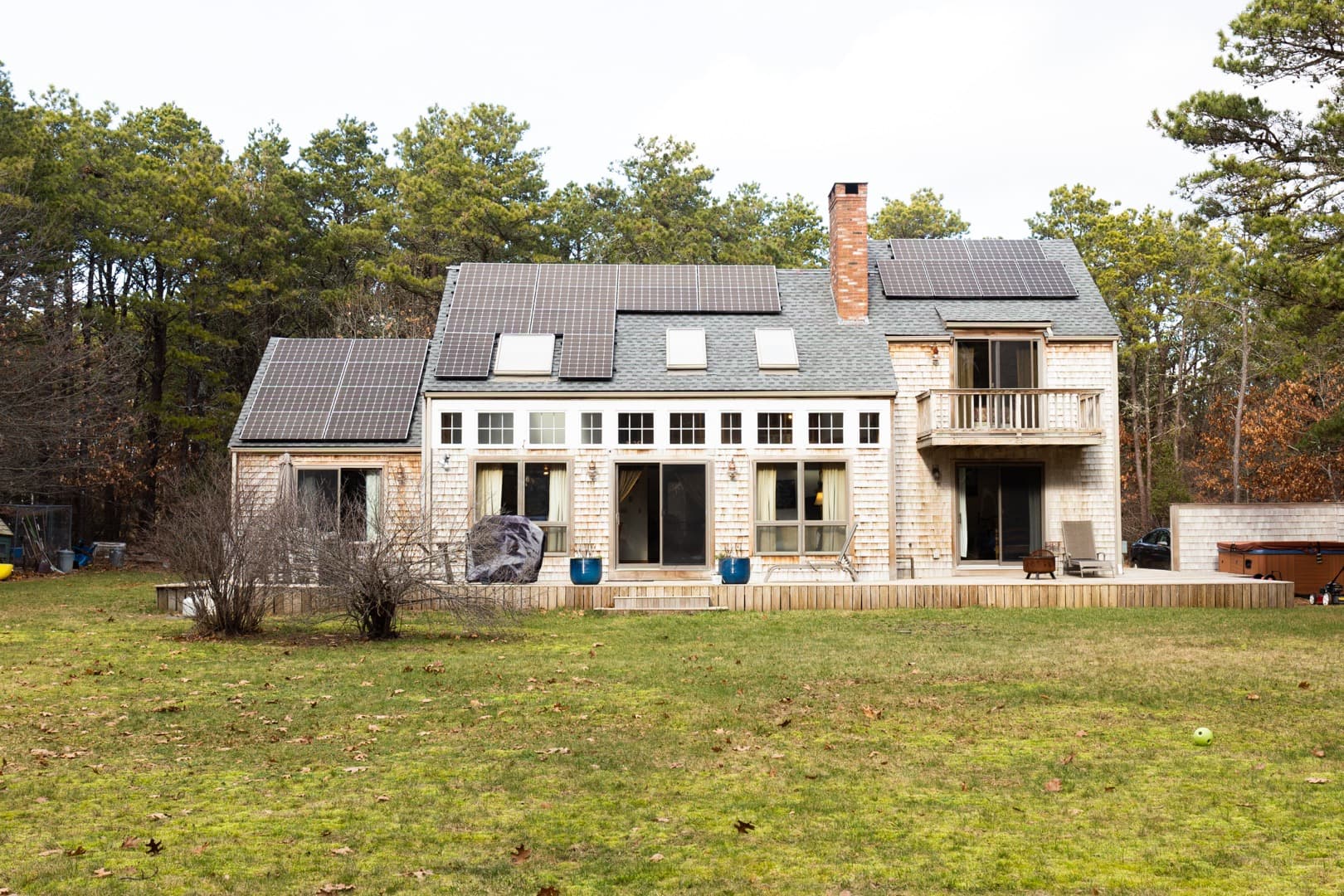 Withdrawn
Single Family Residence in Central, West Tisbury
4 bedrooms
·
3 bathrooms
·
2338 SqFt
·
1.38 acres
·
MLS #40378
Welcome to Nat's Farm, a secluded neighborhood located less than two miles from Alley's and a short walk from the West Tisbury School as well as State Forest walking trails. This contemporary home is sited strategically on the 1.4 acre lot to provide a spacious backyard complemented by a south facing deck perfect for sunbathing or hosting a BBQ. A row of windows and sliding glass doors allow plenty of sunlight into the first floor living room and dining area. There is a bedroom with its own full bath off the kitchen, as well as a separate wing with two bedrooms that share a full bath and laundry. The top floor has a second living room space, and the master bedroom is replete with fireplace, a deck overlooking the backyard and loft bedroom which could also double as a home office. Recent additions of solar panels and mini-splits for AC and Heat ensure comfort and affordability and minimize the possibility of moisture related issues like mold. Sellers are in the process of installing a water filtration system and an on-demand hot water system for the kitchen.
Property highlights
Unfurnished
Deck
Hot Tub
Cov
Septic Tank
Cable
Well Water
Property Details
Association Fee Includes:

Road Association

Interior Features:

Ins,Irr,MiniSplit,OShFloor 1: Kitchen, living room, dining room, three guest bedrooms, two full baths.Floor 2: Master bedroom suite, loft.Floor 3: Small loft bedroom over master bedroom

Link MLS Comments:

Old County Road to Nat's Farm Road. Bear left onto Leona Lane. First driveway on left #20 NOTE: Saturday showings after 10am are strongly preferred. 24 Hours notice for all showings.

Lot Features:

Open lawn and perennials

Assessed Building Value:

750500.00

Assessed Land Value:

711600.00
Price History
February 14, 2023
$1,595,000
December 22, 2022
$1,695,000
Tax Information
This property was most recently assessed in 2023. It has been assessed at a value of $1,462,100. The annual tax responsibility for this property is $6,400.
Contact an Agent
Phone number
Property Location
©2022 LINK, All Rights Reserved. Not responsible for misinformation or typographical errors. Prices are subject to change without notice. Listed by Feiner Real Estate.