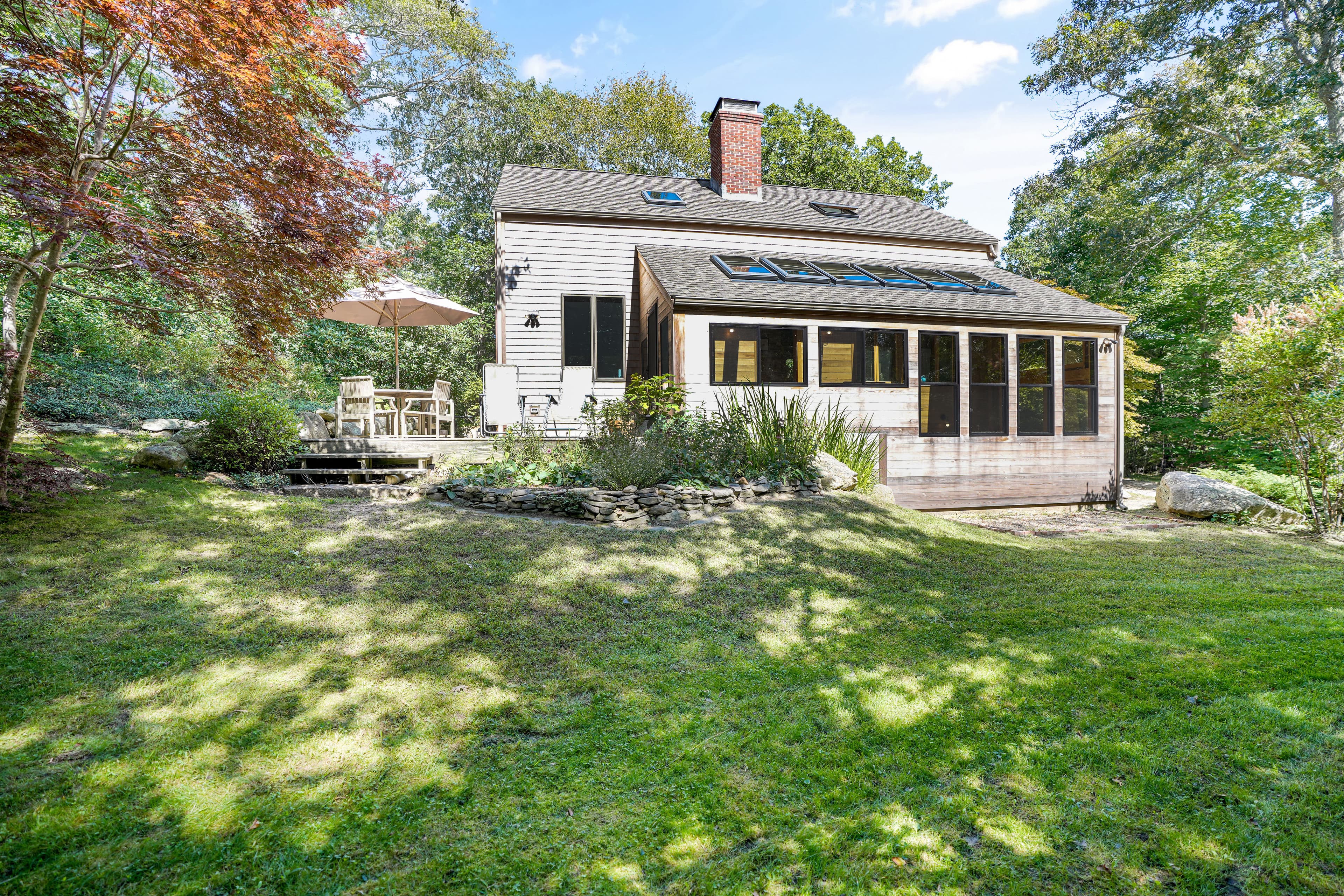 Closed
Single Family Residence in Central, Oak Bluffs
3 bedrooms
·
2 bathrooms
·
1369 SqFt
·
1.528 acres
·
MLS #41373
Stunning Oak Bluffs Home Featured in MV Home & Garden - Welcome to a unique and charming piece of Martha's Vineyard history, where design meets authenticity and creativity flows freely. Nestled in a magical country garden setting at the end of a winding road in a secluded enclave of Oak Bluffs, this nearly 1,400-square-foot, three-bedroom house isn't just a home; it's an inspiring narrative. The timber-framed beauty from the mid-1800s was moved beam by beam from its original location nearby, painstakingly disassembled and reassembled in its current location, giving it a new lease on life. Original details and repurposed additions seamlessly blend together, exuding an aura of history and happenstance. The entry to the home is a custom-built solarium, completely rebuilt in 2022, featuring Marvin windows, Velux skylights, a custom-painted concrete floor, Eastern white pine framing and beams, oak stairs, stainless cable railings, custom matte black door hardware. While the house may still have a few renovations on its horizon, many updates have been thoughtfully and artfully made over the last few years. Centrally located, all of the wondrous and plentiful offerings of the island are just minutes away. It is a life where every moment is an opportunity to create, to design, and to breathe deeply, much like the gentle exhale of the Vineyard itself.
Property highlights
Unfurnished
Public Beach
Deck
Garden
Porch
Septic Tank
Cable
Town Water
Property Details
Association Fee Includes:

Basement:

Partial finish as an office space. with exterior and solarium walkout access. Electric baseboard heat.

Foundation Types:

Poured concrete

Interior Features:

Ins,MiniSplit,OShFloor 1: Open dining room and kitchen with a fireplace and custom wood finishes. Large living room with a wood stove and a door leading to a 528 square foot wood deck and outdoor shower.Floor 2: One main bedroom with ensuite bath and fireplace. Two guest bedrooms with a full bath.

Link MLS Comments:

Edgartown Vineyard Haven Road to Great Rock Road. First driveway on the left. Dining room light fixture and office desk excluded.

Lot Features:

Sloping/Level

Assessed Building Value:

438800.00

Assessed Land Value:

541500.00
Price History
September 23, 2023
$1,450,000
Tax Information
This property was most recently assessed in 2023. It has been assessed at a value of $980,300. The annual tax responsibility for this property is $5,200.
Contact an Agent
Phone number
Property Location
©2022 LINK, All Rights Reserved. Not responsible for misinformation or typographical errors. Prices are subject to change without notice. Listed by Portfolio Real Estate, Inc..