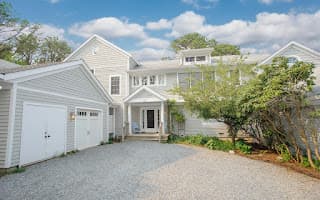 Condominium in Tashmoo, Vineyard Haven
2 bedrooms
·
2 bathrooms
·
1800 SqFt
·
Constructed 1988
·
MLS #40658
A RARE opportunity to own a condominium in the charming location of Tashmoo Woods. The association has a ton to offer such as a pool, a dock to launch boats and kayaks, beach access, tennis courts and a playground.Tashmoo Woods Condominiums are surrounded by 100 acres of woods with lots of walking trails. Located next to Mink Meadows Golf Course and a short distance to both Main Street Vineyard Haven and Tashmoo Lake makes it so desirable. The condo consists of three levels of living. Two large bedrooms with en suite bathrooms make up the top floor. The main living space has hardwood floors throughout with a wood burning fireplace. Tall ceilings and large windows let in all the natural light that leads into the kitchen and dining area. A half bathroom with washer and dryer is also located on the main floor. You can enjoy the outdoors on a large deck that can be accessed from the kitchen and living room. The lower level is a fully finished basement with extra storage space. Such a great space with so much to offer! Don't miss out!
Property highlights
Partially
Public Beach
Association Beach
Community Pool
Tennis Court
Cov
Deck
Porch
Septic Tank
Cable
Property Details
Association Fee Includes:

Exterior maintenanceroofsepticroad maintenancesnow removallandscapingtrashdockpool and tennis courts upkeep

Basement:

Finished walk out basement with storage.

Interior Features:

A,AC,Ins,OShFloor 1: Kitchen, dining area, living room with tall ceilings, wood burning fire place, washer/dryer, half bathroom and a large back deck.Floor 2: 2 bedrooms - The primary bedroom with en suite bathroom and large closet. A second bedroom with en suite full bathroom.

Link MLS Comments:

Take a left off of Franklin St onto Cove Road, follow Cove road to the end take a left into 176 Sandpiper Ln Unit 11 - across from tennis courts.

Parking Features:

2 cars and one car garage

Assessed Building Value:

702400.00
Tax Information
This property was most recently assessed in 2023. It has been assessed at a value of $702,400. The annual tax responsibility for this property is $5,204.
Contact an Agent
Phone number
Property Location
©2022 LINK, All Rights Reserved. Not responsible for misinformation or typographical errors. Prices are subject to change without notice. Listed by Donnelly + Co.