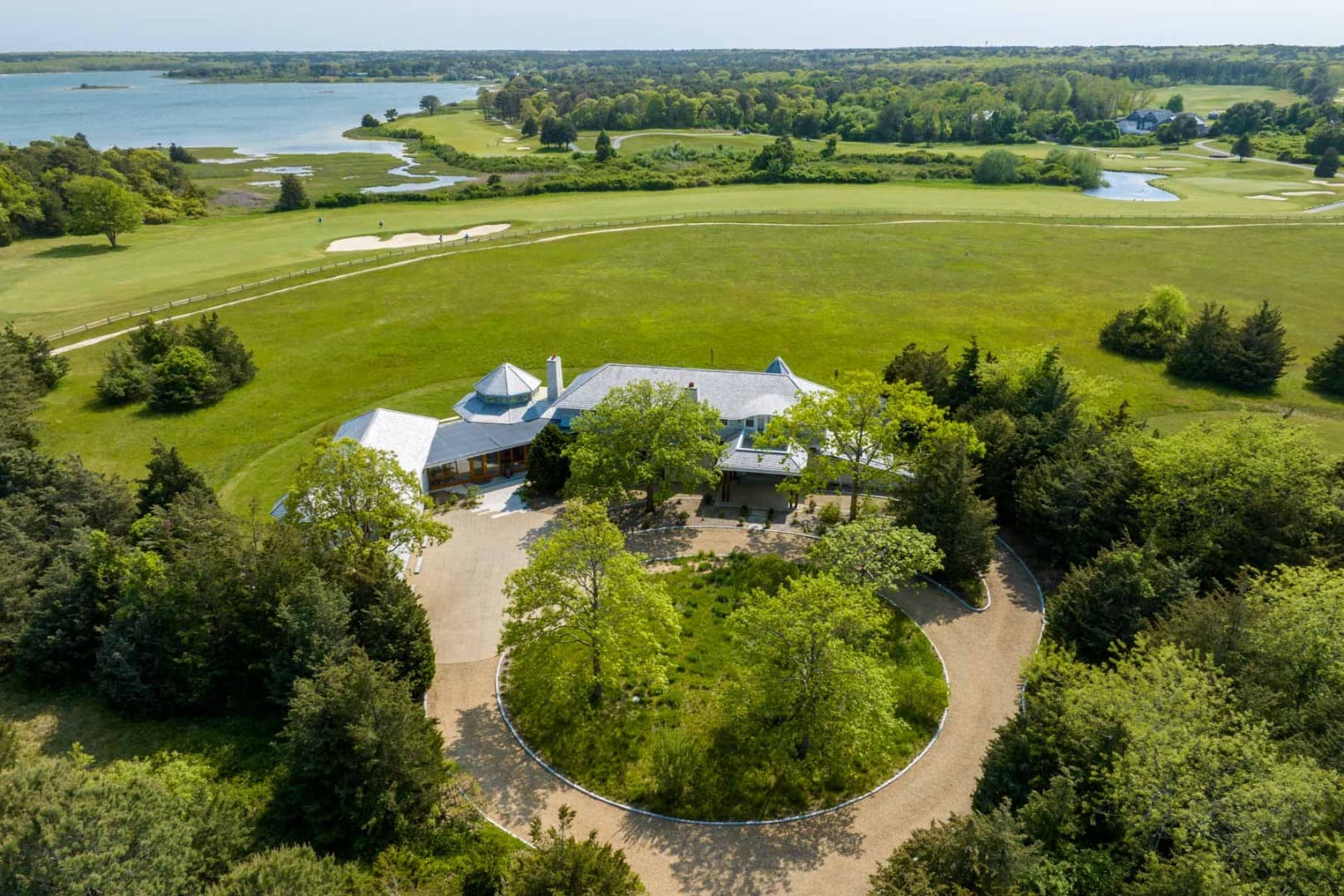 Closed
Single Family Residence in Sengy, Oak Bluffs
4 bedrooms
·
5 bathrooms
·
5023 SqFt
·
2.56 acres
·
MLS #40778
Private Farm Neck Retreat. This luxurious and spacious residence offers the perfect balance of comfort, style, and tranquility. With its stunning location on the world-renowned Farm Neck Golf Course, this home is a true gem that is sure to impress even the most discerning buyers. Sited on over 2.5 acres of privacy with spacious water views overlooking the 18th Hole and the extensive Sengekontacket Pond making it the perfect place to unwind and relax. The floor to ceiling windows in the large living room allow you to experience the views of the Pond as soon as you enter the home. The primary bedroom is in its own wing on the first floor and is complete with two office spaces, a full bathroom that flows effortlessly outside to the hot tub and outdoor shower, and many beautifully crafted built-ins for storage. The large kitchen is flanked by a formal dining room on one side and a sunny more casual dining nook on the other. Both allowing for large gatherings and impressive views. The remaining three bedrooms are located on the second floor, each with a private bath, and views of Sengy. The finished basement with movie theater and game room completes this Vineyard retreat. Property includes stockholder membership to Farm Neck Golf Club.
Property highlights
Unfurnished
Public Beach
Patio
Water Views
Septic Tank
Cable
Town Water
Property Details
Association Fee Includes:

Basement:

The finished basement includes a movie theater with projection screen and game room large enough to hold a ping pong tablea pool tableand a dart board. The remaining wing of the finished basement would be great for a home gymadditional recreational spaceor whatever else you can dream up.

Interior Features:

A,AC,Ins,Irr,MediaFloor 1: The living room, centrally located on the first floor is a focal point with its fireplace, floor to ceiling windows, and cupola to allow sunlight in from all angles. The primary bedroom with full bath, and offices is located on one side of the living room. On the other side are both dining areas, full kitchen, a second fireplace and laundry room.Floor 2: The remaining three bedrooms, each with full bath and views are located on the second floor.

Link MLS Comments:

Enter Farm Neck Golf Course and take a left on to Tylers Creek just past the putting green. Follow to the end.

Assessed Building Value:

4300400.00

Assessed Land Value:

2551600.00
Tax Information
This property was most recently assessed in 2023. It has been assessed at a value of $6,852,000. The annual tax responsibility for this property is $36,200.
Contact an Agent
Phone number
Property Location
©2022 LINK, All Rights Reserved. Not responsible for misinformation or typographical errors. Prices are subject to change without notice. Listed by Wallace & Co. Sotheby's.