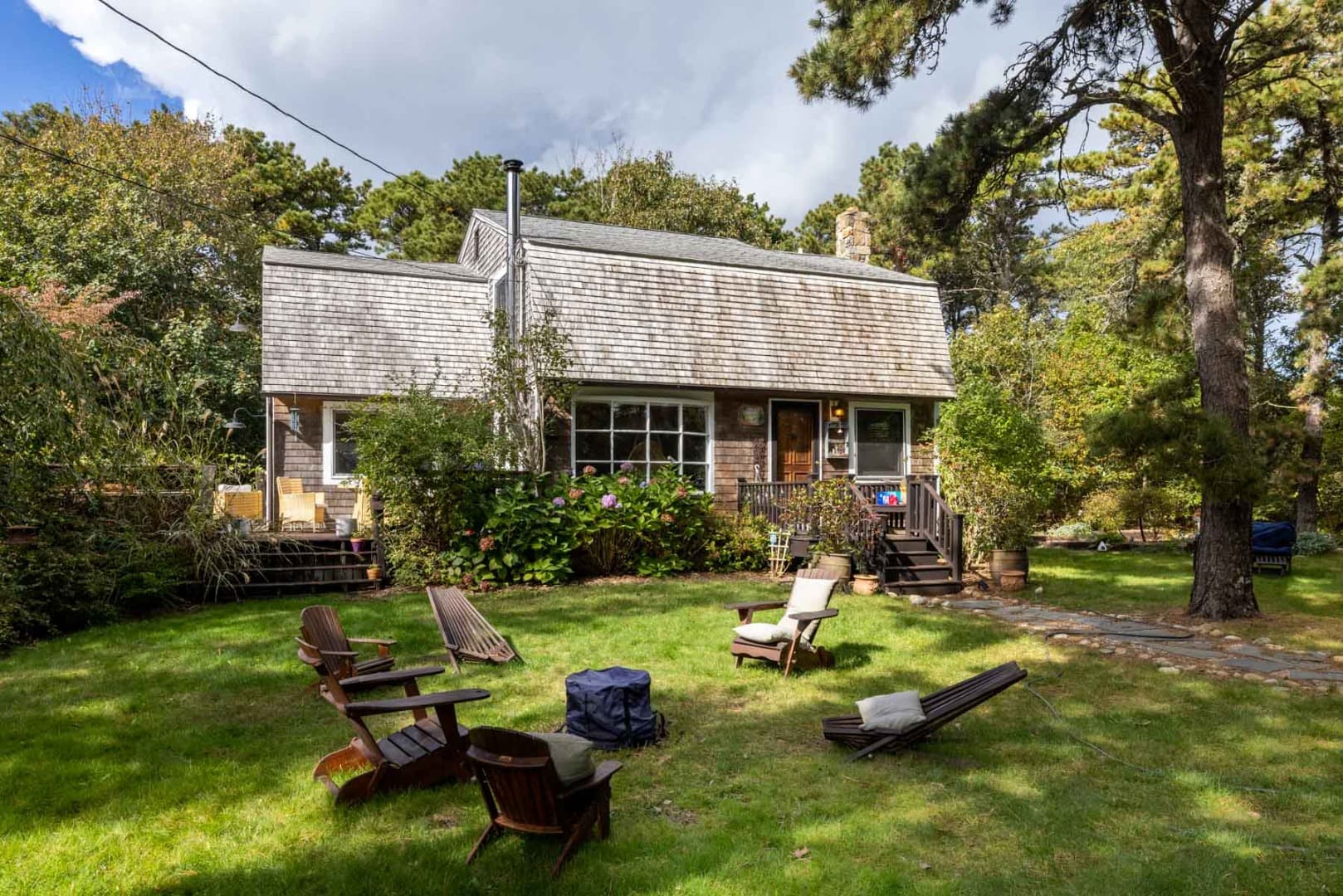 Single Family Residence in Katama, Edgartown
4 bedrooms
·
2 bathrooms
·
1800 SqFt
·
0.97 acres
·
MLS #36495
Welcome to the perfect Edgartown retreat, where you can experience comfort, convenience, and privacy all in one home. This four-bedroom, two-full-bathroom house is set back on nearly 1-acre, giving you the peace and serenity you've been searching for. The first floor of this sun-filled home features an open kitchen, great for entertaining your family and friends. An additional living room with large French doors to let natural light in connects to the kitchen and includes a full bath and small office space. This area is the perfect spot to relax with a book, watch your favorite show, or just bask in the sun's warm glow. The large wrap-around deck adds another touch of charm and serves as a perfect spot for dining off the kitchen or lounging off the living room. The second floor of the house boasts four bedrooms and another full bathroom, ensuring there's ample space for you and your family. If you ever need to expand the house, the property provides room for additional rooms or even a pool, garden, or whatever outdoor feature your heart desires. Once connected to town sewer, the property can support up to 7-bedrooms, so the possibilities are endless. The home's location provides the best of both worlds. It's situated just a short distance away from downtown Edgartown and South Beach, allowing you to enjoy everything that these popular destinations have to offer, while still maintaining your privacy and seclusion when you need it. With this home, you'll experience the perfect balance between comfort, privacy, and convenience.
Property highlights
Unfurnished
Deck
Garden
Public Beach
Septic Tank
Cable
Well Water
Property Details
Association Fee Includes:

Foundation Types:

Full Basement - Unfinished

Interior Features:

Ins,OSh,WdStoveFloor 1: Open kitchen, living room, dining area and additional TV room with full bathroomFloor 2: 4-bedrooms, 1 full bathroom

Assessed Building Value:

535900.00

Assessed Land Value:

620700.00
Price History
October 06, 2023
$1,800,000
Tax Information
This property was most recently assessed in 2023. It has been assessed at a value of $1,156,600. The annual tax responsibility for this property is $3,200.
Contact an Agent
Phone number
Property Location
©2022 LINK, All Rights Reserved. Not responsible for misinformation or typographical errors. Prices are subject to change without notice. Listed by Wallace & Co. Sotheby's.